There is no bright line rule in New Jersey concerning the appropriate age at which a child's input will be the determining factor regarding where the child wants to live once that child's parents are divorced.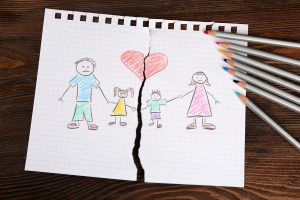 Of course, common sense prevails with respect to the fact that a four-year old child usually doesn't have such an ability or the capacity to make a meaningful decision, while a seventeen year old child is basically going to reside wherever he or she wants to reside regardless of any court order.  Regardless of age, it is the sole role of the court, not the child, to determine what is in  "the best interests of the child", and this includes a determination of where the child should reside.
Certainly, the older the child, the greater weight a court will place on that child's thoughts and preferences with respect to where the child wants to reside upon  conclusion of the divorce.  However, other factors along with age must be considered, among them the overall maturity of the child and, critically, whether that child has been unduly influenced or even alienated by a parent when giving his or her opinion.
Some Do's and Don't's of Custody Disputes:
Don't Do This:
As a parent going through a divorce, it is critical to avoid conversations in which you,  in any manner,  question your child with respect to where he or she wants to reside, regardless of the age of your child.  Don't do that.   Such communications on your part may very well be interpreted by the court as not only inappropriate parental behavior and poor parental judgment, but also a wrongful form of coercion or even an attempt on your part to alienate your child from the other parent.  Perhaps, most importantly, a parent should never put a child in a position of "choosing" one parent over another parent – and any court will not take kindly upon a parent who attempts to place a child of any age in such a position.
Instead, Do This:
There are many mechanisms that the court has in place for taking into consideration the opinion of a child when determining physical/residential custody upon divorce.  The court may appoint a child therapist to speak with the child.  There may also be an appointed Guardian ad Litem, who is usually an experienced attorney  appointed to the case in order to examine the facts and better understand the position of your child and what is, in fact, in the best interests of your child.  In extreme matters, a lawyer for your child may be appointed by the court to specifically represent your child's legal rights in the divorce.  A Court may also request to interview the child in private under very specific circumstances.  We, as lawyers, sometimes petition the court to have the child interviewed by the Judge if our client believes the child needs to be heard.
A Best Interest Evaluation:
A common method often employed in divorce proceedings is the retaining of a custody expert by one or both parties.  A custody expert is an experienced forensic psychiatrist who specializes in the field of determining what is in the best interests of a child with respect to physical custody of that child upon divorce.  A custody expert will engage in thorough meetings with your child where your child can openly express his or her feelings.  The custody expert will also interview you and the child's other parent (as well as anyone else deemed relevant to the matter, called collateral contacts), as well as perform a series of testing to ultimately determine what that expert believes to be in your child's best interests as to where the child should reside.
There will be many opportunities for your child to express their emotions and opinions during the divorce process with respect to their view about where they feel most comfortable residing.  However, it is critical that a parent allow his or her attorney to guide them through the appropriate process to allow a child's voice to be heard, without placing that child in a position of having to "choose" between parents.  An experienced  New Jersey custody and parenting time attorney will know exactly what procedures to pursue from the Court to ensure  your child's best interests, along with their feelings and thoughts (if of appropriate age), are put at the forefront of your custody and parenting time litigation.
 Above all, make sure you've hired the right attorney for such an important issue:
If you are looking for guidance and strong legal representation on this emotional and important issue, Mark Goldstein, Esq. and the other four (4) highly experienced custody and parenting time attorneys at Goldstein Law Group stand ready to help you and put you more at ease, while also ensuring that your child's best interests remain at the forefront of the litigation. Please call us at 732-967-6777 for a phone or video conference consultation.   Our firm handles New Jersey custody, parenting time and divorce cases in Monmouth County, Middlesex County, Ocean County, Somerset County, Essex County, Union County, Bergen County, Hudson County, Burlington County and all counties throughout the State.