Mark Goldstein, Esq. and the four other highly experienced family law attorneys at Goldstein Law Group appear regularly before the family court judges in Monmouth County, New Jersey, Middlesex County, and Ocean County.   We see the good and the bad!  Some good decisions by our judges, some not so good (in our opinion, of course).   It's disheartening and frustrating to us as professionals when we sometimes  read about a  decision by a  judge that seems unreasonable or unfair.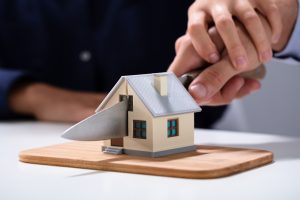 A recent decision that was just issued earlier this year, from Judge Aquaviva sitting in the Monmouth County Family Court did, in our opinion, get it right!
In the case C.N. vs S. R., the court was asked to address an issue that we, as family law practitioners, encounter frequently-that is, what happens to a house where two parties decided to live together, bought a house to live in, and even raise a family together in that house, but simply did not marry?  What happens when that relationship sours?
What happens to the house these two unmarried people acquired during their relationship?
This case involved a lawsuit between the mother and father (they had children between them in this relationship ) who bought a house, but put the title in just the mother's name. The father however, contributed to the down payment, as well as paid the majority of the other living expenses for their household, while the mother paid almost all the mortgage payments.
Each case is different.  The facts must be analyzed to determine what legal principles should be applied. This particular  case examined competing legal positions advanced by each of the parties – the mother claiming the application of  New Jersey's  palimony law governed, and therefore prevented the father from having an interest in the property because there was no written palimony agreement as now required under New Jersey's recently amended Statute of Frauds statute;  and the father argued that New Jersey's laws on partition law applied here, as their arrangement was essentially a joint venture.
Sine the mother wanted to keep the house, and not compensate the father for any interest in the house,  the father filed this lawsuit in order to be compensated for what he claimed was his interest in the property, even though his name did not appear on the title.  The husband filed his claim premised upon the equitable claim of "partition" in which individuals who have an interest in a piece of property can seek to compel the sale of the property in order to provide each co-owner with their fair share of its value.
The facts in this case were, of course, fact sensitive. The wife attempted to defend against the husband's claim by analogizing his interest to a claim under palimony.  Why?  Because, by doing so, she believed his claim should fail since  New Jersey law on palimony  requires the existence of a written agreement , signed by the parties, and the parties had  to have received legal counsel as to the ramifications of a palimony agreement in New Jersey. Since there was no such written agreement here, the wife asserted that his claim should be denied.
However, the father's claim was brought as a partition action. Despite the mothers repeated legal arguments that the claim would be barred under the statute of frauds and by applying New Jersey's  palimony statute, Judge Aquaviva  properly determined that the palimony statute as well as its legislative history "was not intended to address partition of real property in the absence of a writing among unmarried, cohabitating intimates engaged in a joint venture."
Judge Aquaviva therefore applied the precedent case of Mitchell vs Oksienik, a New Jersey Appellate Division decision from 2005 which had very similar facts involving an unmarried couple, cohabitating, with two children and a claim over land that was purchased by the couple during their relationship. There, the Appellate Division affirmed the trial court's finding that partition was appropriate for unmarried cohabitating parties engaged in the joint venture to purchase their residence. There too, the parties did not have a formal written agreement that memorialized the terms between them however, the court did find that such a written agreement was not necessary, "as a joint enterprise can be "inferred from conduct of the parties."
The court clearly stated,  "It is clear… that the purchase of property under one unmarried cohabitant's name is "essentially irrelevant to an equitable action."
What happens if you and your significant other purchased a home in which you both resided, in which you both contributed monies, either towards the down payment or, in some instances, towards other household expenses while your significant other may pay the mortgage, and now, one of you wants out?
If you  find yourself at the end of that relationship and want to either keep the house for yourself or have your interest bought out by your significant other, don't despair. The legal, equitable remedy of partition is available to address this type of  situation and may, in your particular case, have similar applicability as in this case cited. However, it is a complex area of the law and you should contact an experienced family law attorney with extensive experience and knowledge in the areas of real estate and partition to counsel you and represent your interest. Please contact Mark Goldstein, Esq.  at Goldstein Law Group  to discuss your specific  situation. We offer a free 10 Minute Case Evaluation*. We have offices conveniently located in old Bridge Township, Middlesex County, and Brielle, Monmouth County, New Jersey, right on the border of Ocean County,  New Jersey. However, we handle cases throughout the entire state of New Jersey,  in every county.